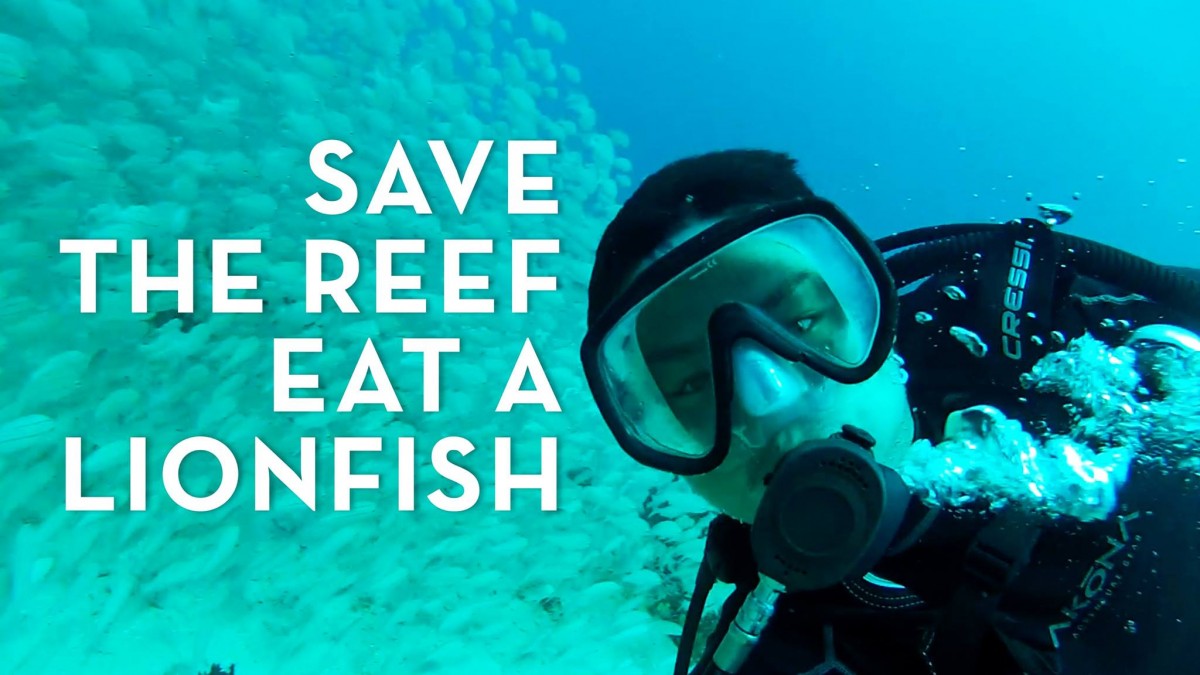 Save The Reef, Eat A Lionfish
|
The Lionfish Cookbook Contains Delicious Secrets
In recent years, REEF announced the release of "The Lionfish Cookbook", available for purchase from Amazon. The book, written by Tricia Ferguson and Lad Akins, with photos by David M. Stone, is a unique blend of 45 tantalizing recipes, background on the lionfish invasion and its impacts, as well as information on how to safely catch handle and prepare the fish. Invasive lionfish are a new threat to western Atlantic, Caribbean and Gulf of Mexico waters.
Lionfish densities in the Caribbean, Gulf of Mexico, and the East Coast of the United States are on the rise due to their lack of predators and prolific, year-round reproduction. Thriving lionfish populations pose a serious risk to marine ecosystems through their predation on native marinelife, including both commercially and ecologically important species. Preparing these delicious fish – which boast a delicate buttery flavor –  as table fare may be our best hope for helping to remove the fish and minimize its impacts. As Bermuda has so aptly coined, we need to "Eat 'em to Beat 'em"! Proceeds from the sale of this book will support REEF's marine conservation and lionfish research and removal programs.
Here is one of the great recipes you will find in this book:
Ingredients:
1/4 cup fresh-squeezed lemon juice
1/3 cup fresh-squeezed orange juice
3 Tbs. fresh-squeezed lime juice
Pinch of sugar to taste
Pinch of salt to taste
1/2 lb. lionfish fillets cut into 1/2-inch cubes
12 cherry tomatoes, stems removed and quartered
1 small, ripe avocado, pitted and cubed
1/2 cup cubed English cucumber
2 serrano chilies, minced
2 Tbs. fresh cilantro, chopped
1 Tbs. fresh mint, chopped
2 Tbs. olive oil
Directions:
In a nonreactive bowl, stir together lemon, lime, and orange juices. Season with salt and just enough sugar to offset the acid of the citrus juice. Cut lionfish filets into 1/2-inch cubes, and add to the citrus juice. You want to completely cover the fish with the citrus juices. Cover and refrigerate for 1 hour. In a bowl, combine the tomatoes, avocado, cucumber, chilies, cilantro, and mint and stir to combine. Transfer the fish to a colander and drain for several seconds. Once drained, add the fish to the tomato mixture and mix. Drizzle with the combined ingredients with oil, taste and adjust with salt to taste. Divide the ceviche among four martini glasses or small bowls and serve immediately.