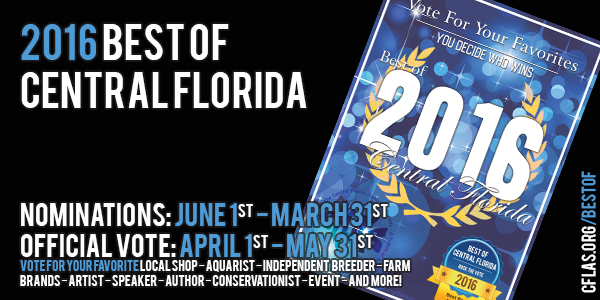 Best of Central Florida: Aquarist Edition
With Spring being symbolic of growth and revitalization, it seems only fitting that we tip the spotlight to our local community and industry members by promoting renewed vigor and continued growth through our "Best of Central Florida: Aquarist Edition" recognition awards program. This non-juried, fan-favorite vote recognizes nominees for their contributions and make our hobby thoroughly enjoyable through innovative products and advancements, product distribution, and conservation.
Throughout the year, community and industry members submit their nominations for local aquatic businesses, farms, aquarists, brands, authors, and artists to be included on the official voting ballot. The Central Florida Aquarium Society maintains strict criteria for any organization seeking to qualify for representation on the final Best of Central Florida: Aquarist Edition ballot. All nominees must maintain at least a 3-star rating on popular review websites (Yelp, Google, TripAdvisor, Facebook). Prospective nominees must also receive at least 10 nominations to be included. Although this nomination process is waived for all official members and sponsors, a positive review status must continue to be maintained in order to be represented. Although nominations can be made throughout the year by using our nomination ballot, any nomination made after March 31 will be applied towards the next voting period.
Official voting is open April 1 – May 31. During this time, readers may cast their votes for the top nominees. Winners of each category will be announced the first week of June on our website, social media, and in our June newsletter.
This is your opportunity to let your voice be heard! Spread the word about your favorites and help support positive growth in the aquatics industry. We encourage all retailers, manufacturers, and fans to share this program with fellow hobbyists and industry members in an effort to further grow our local community and bring more focus on Central Florida as a whole. To thank you for your participation, everyone who votes in accordance with the rules, will be entered to win some really great prizes!
Previous Winners
Congratulations to our winners from previous years: 2015, 2014
Rules
All participants will be entered to win an assortment of prizes specified on the ballot. Only one ballot per email address will be counted. Voters must submit their ballot by May 31st, and are required to provide their full name, zip code, and email address for the entry to be considered valid. By participating, you agree to receive our monthly newsletter until such time that you opt-out. Standard terms and conditions apply. Winners are responsible for scheduling pickup times for their prizes. Any prizes left unclaimed after 30 days following the end of the voting period become forfeit.
Prize winners will be selected at random from entries and will be notified by email and announced in our June issue of our newsletter. Winner must reside within our coverage area. The odds of winning depend upon the number of ballots received. No cash or substitutions in lieu of prize. Standard contest terms and conditions apply. Please enter valid contact information to prevent delays. Participation is open to all readers 18 and older. Void where prohibited by law. Offer is subject to all federal, state and local regulations. We encourage all prize recipients to submit a photo with your loot!
Local award winners can expect to have their framed award(s) hand-delivered by a CFLAS team member, while out-of-state or non-local winners can expect to receive their award certificates in the mail. All winners will be announced on our website, social media pages, and in our June newsletter. In addition, all winners will receive an award badge that is vector-based with a transparent background that you may use and display as you see fit, as long as the badge remains unaltered. We encourage all award recipients to submit a photo with your awards!
Sponsorship opportunities for the Best of Central Florida: Aquarist Edition awards are available. Whether you donate prizes, desire strategic banner placement above the voting section of your choice, or wish to be a presenting sponsor with your logo included on the awards, we'd love to work with you.