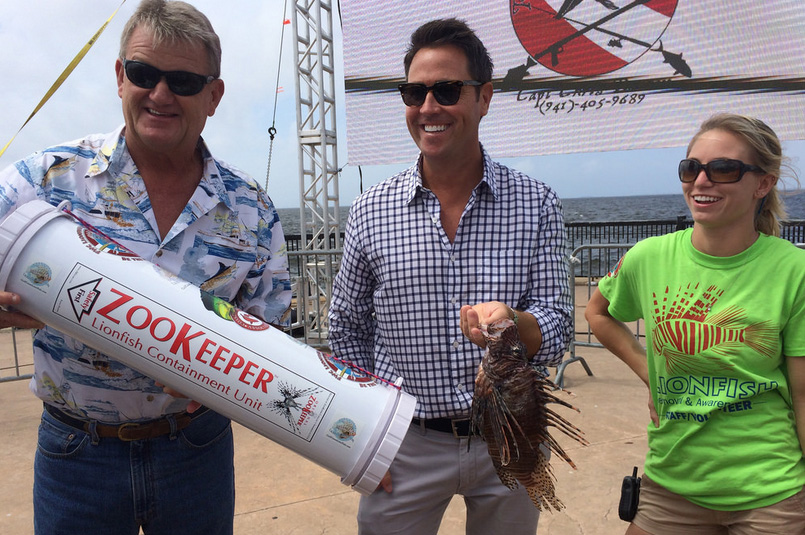 First Annual Lionfish Removal and Awareness Day a Success
|
Over a Thousand Lionfish Removed from Florida Waters During This Event
Florida's first annual Lionfish Removal and Awareness Day (first Saturday after Mother's Day) was a success, from statewide lionfish removal efforts to unveiling the new "Reef Rangers" lionfish removal program to educating the public about lionfish.
The Florida Fish and Wildlife Conservation Commission (FWC) celebrated the day by hosting a festival in Pensacola, supporting and promoting other lionfish removal events across the state, and asking divers and anglers to remove lionfish wherever they could. Lionfish are a nonnative, invasive species that have a potential negative impact on Florida's native wildlife and habitat.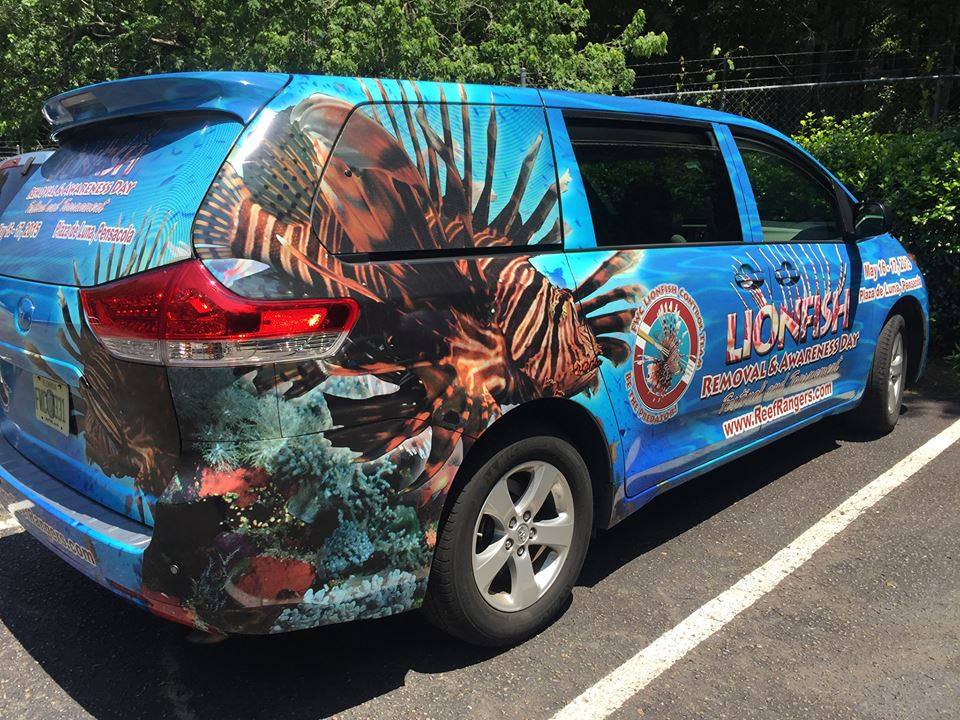 A major goal of raising awareness about lionfish was reached as more than 3,000 people attended the festival in Pensacola. Visitors learned not only about lionfish, but many got to taste them for the first time. Other activities included art and conservation booths, fillet demonstrations, celebrity chefs, kids' activities and guest speakers such as artist and conservationist Dr. Guy Harvey and Pensacola Mayor Ashton Hayward. Some participants even walked away with gear signed that day by Harvey.
"The inaugural Lionfish Awareness and Removal Day was a success. Well over 1,000 lionfish were speared statewide. At the Pensacola festival, local chefs did a great job demonstrating how to prepare and cook lionfish. Everyone seemed to enjoy tasting them."

– Dr. Guy Harvey
And even though high winds and bad weather made it difficult, plenty of lionfish were still removed across the state. While the average derby in 2014 removed about 600 lionfish, Florida visitors and residents across the state came together to remove 2,399* lionfish in anticipation of and on the weekend of Lionfish Removal and Awareness Day (*includes 704 lionfish collected May 1-18 at the month-long Northeast Lionfish Blast in Jacksonville). Lionfish were removed at derbies and tournaments as well as by individuals who reported their catch on the Report Florida Lionfish app or online at MyFWC.com/Lionfish by clicking "Report Lionfish." At the Lionfish Removal and Awareness Day Tournament in Pensacola, 877 lionfish were removed by three teams in two days. This tournament was hosted by the Gulf Coast Lionfish Coalition.
The FWC also had 45 people sign up this past weekend to become a Reef Ranger. Participants in the new Reef Rangers program pledge to adopt a reef and remove lionfish from it on a regular basis. Research has shown that consistent lionfish removal efforts can reverse some of the negative impact lionfish have on affected reefs. To sign up to become a Reef Ranger, visit Reefrangers.com.
Lionfish Removal and Awareness Day (the first Saturday after Mother's Day each year) was created by FWC Commissioners to raise awareness about lionfish – nonnative, invasive species that have a potential negative impact on native species and habitat.
The FWC thanks all of the sponsors and organizations across the state that helped make this day possible.
The FWC also wants to remind everyone that lionfish or other exotic pets that can no longer be cared for should never be released into Florida waters or lands. To learn more about FWC's Exotic Pet Amnesty Day program, where people can surrender an exotic pet for adoption, visit MyFWC.com/WildlifeHabitats and click on "Nonnative Species" and "Exotic Pet Amnesty Program."