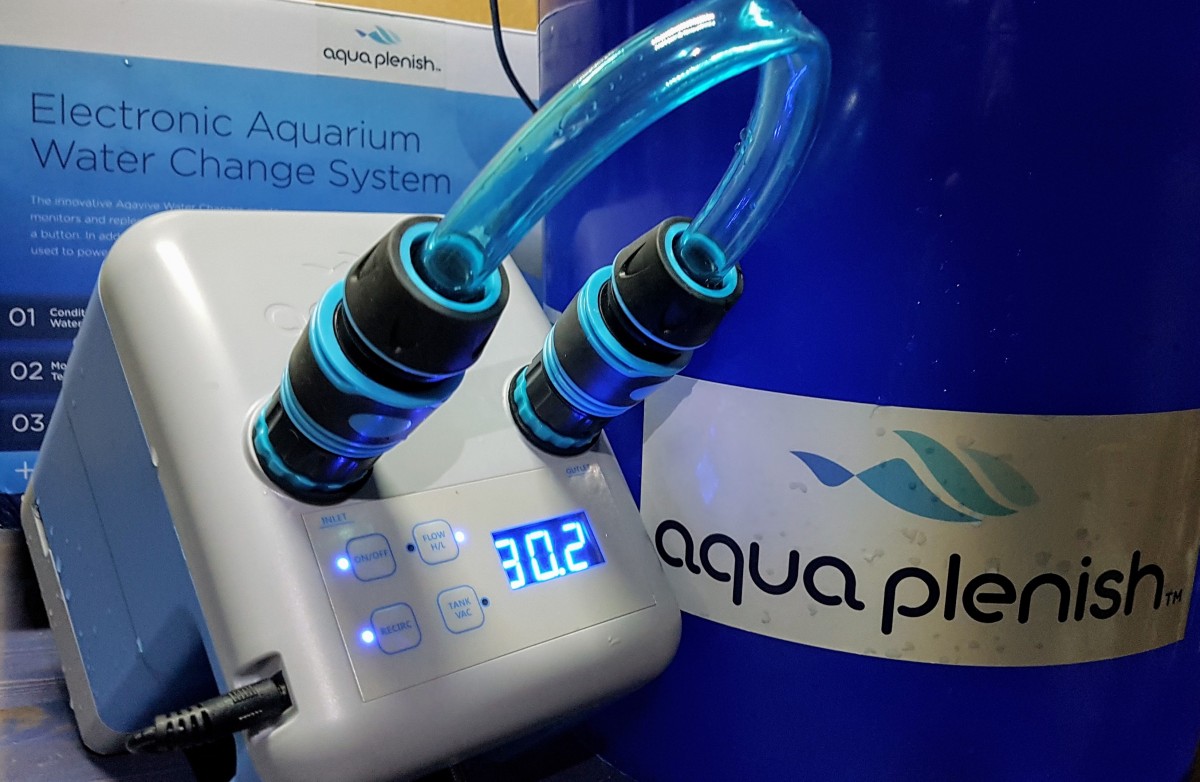 Aquaplenish Aquarium Water Changer a Game Changer
|
Finally, a Water Change System Sets Aquarium Hobbyists Up for Success
Toting buckets of water through your home or office seems like a hazing process nearly every fishkeeper endures — most are no stranger to spills and back pain and resort to a simple direct-from-tap hose-method of delivery, but what of the wellbeing of your fish, aquatic plants, and coral?
Albeit convenient, dosing in-tank is something that has never sat well with hobbyists, and adjusting the temperature at the tap is often a solid guess at best. Even if you use an infrared thermometer to assist with thermal regulation, this can fluctuate throughout the refill process; nevermind the fact that you are supplying untreated water directly to your tank full of active chlorine, chloramines, heavy metals and unwanted minerals for the sake of convenience.
Last month, we had the exclusive opportunity to work with Australian designer and manufacturer, Aqavive Pty Ltd, who is in the process of bringing their flagship product, the Aquaplenish™ Electronic Water Changer, to the US market. What we received was the Australian Aqavive version which we've been told is to be identical to the US version with a few minor regional changes including branding and digital readout (transition from Metric to Imperial). With promises of being a more practical, refined, and livestock-conscious out-of-the-box solution, the Aquaplenish™ had our attention.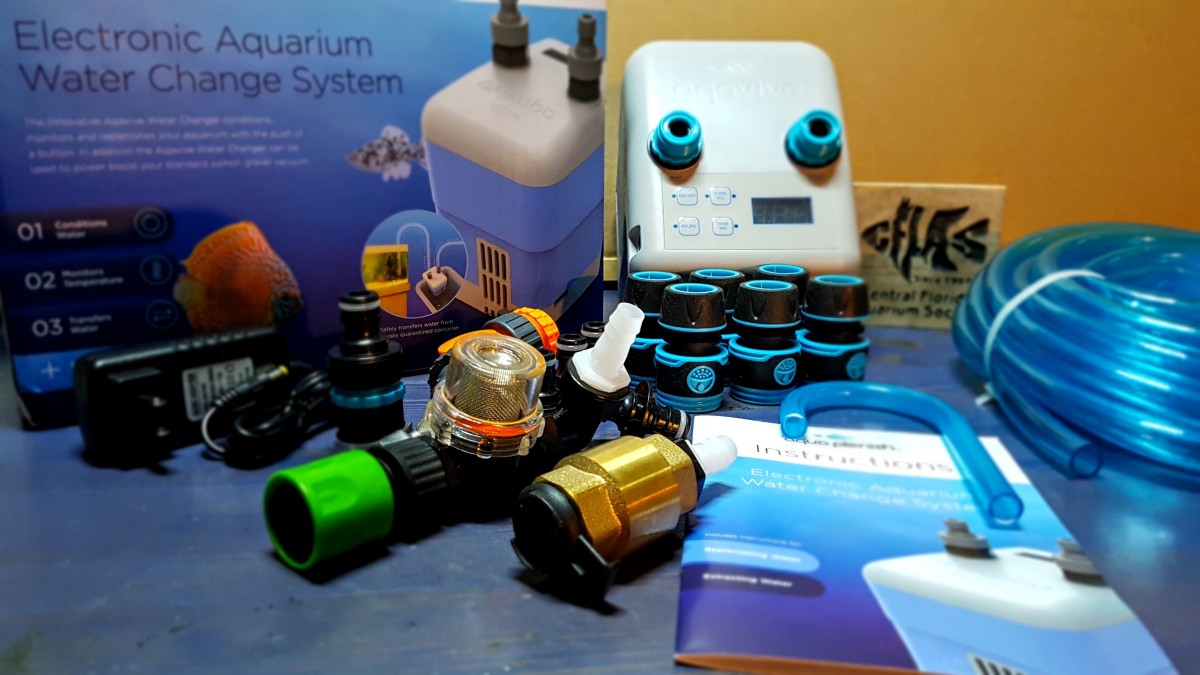 Immediately upon unboxing, one thing was made absolutely clear — quality was not sacrificed on this build. The heavy-duty plastic quick-connect fittings, solid brass primer valve, and stainless steel mesh screen and internal components were impressive; a level of quality not often seen in consumer-grade products in the US market for the past decade or two. Having followed the directions for all basic configurations, it was nice to discover that additional connectors were included allowing hobbyists to configure their Aquaplenish™ to suit their needs, as was also the case with the included large coil of 5/16″ (8mm) tubing.
What sets the Aquaplenish™ apart from other products on the market is the ability to pair it with an intermediate reservoir of any shape and size for thermal regulation and water conditioning. When paired with an Eheim 75 Watt heater (which attaches conveniently to the side of the unit) and your preferred water conditioners and buffers like Seachem Prime or even just a reusable media bag full of activated carbon for dechlorination, you simply need to press the recirculate button and monitor the temperature read-out. This is especially handy when acclimating new livestock or working with aquariums housing live plants, sensitive invertebrates, and corals. When you are ready to refill the tank, simply press the tank fill button to transfer the contents.
One very attractive feature of the Aquaplenish™ is the powered siphon. In many cases, a gravity-fed siphon simply doesn't provide enough suction to effectively remove larger organics from the substrate — monster fishkeepers will understand! Couple the siphon of your choosing with the in-line pre-filter included with the Aquaplenish™ and waste removal becomes a much more efficient process. The DC-powered unit ensures safety while working around water and features two speeds which affect all modes; replenishment, removal, and recirculate.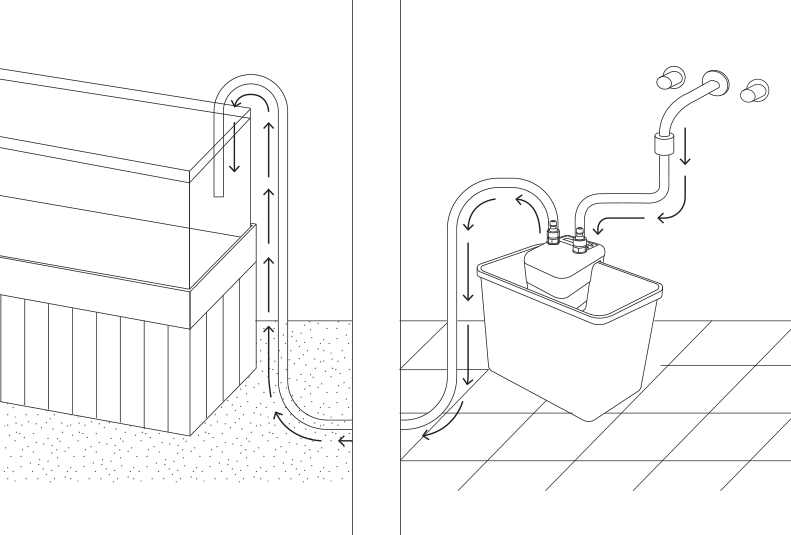 We found that with all of the quick-connect fittings provided, changing connections to accommodate water replenishment or removal was a snap. That being said, it did take about an hour to initially configure as we cut the included hose to our desired length, but it was a fun learning process that we don't think hobbyists will mind. The included faucet attachment allows for connections to most kitchen and bathroom sinks, while the threaded adapters can be configured to fit a standard hose bib or garden hose connection.
All in all, we at the Central Florida Aquarium Society feel this is an excellent product that should be on everyone's radar. It is truly wonderful to see innovative products like the Aquaplenish™ come to market. While the $199 price point may keep some away, considering the livestock some of us may have lost due to improper acclimation and water changes (or lack of… you know who you are), this might just be the product you need to set yourself up for success.
The Aquaplenish™ is currently available for pre-order with free shipping for US buyers, and the initial offering is limited to just 1,000 units. As an added bonus, use coupon code "CFLAS" to receive a 10% discount off your purchase. Be sure to follow Aquaplenish™ on Facebook for product announcements.
We are proud to announce that our team will be using the Aquaplenish™ to assist with setup and acclimation of livestock at our upcoming 4th annual Immersed Aquatic Art Show opening November 16, 2017.