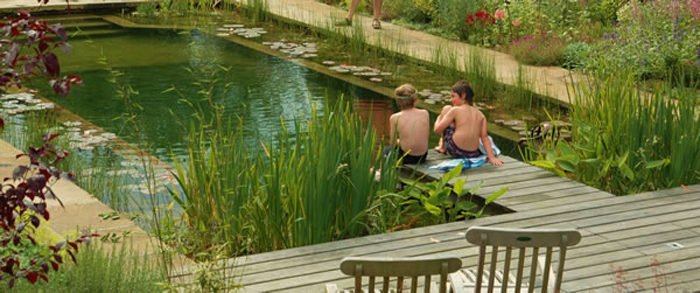 Natural Swimming Pools
|
Love to Swim but Hate the Chlorine? Why Not Convert Your Pool into a Natural Pool That Offers a Chemical-free Way to Stay Cool. Natural Swimming Pools Recreate Pristine Ponds…
Love to swim but hate the chlorine? Why not convert your pool into a natural pool that offers a chemical-free way to stay cool.
Natural Swimming Pools recreate pristine ponds and mountain pools found in nature. The water is kept sparkling clean by circulating it through an ecosystem of water plants. The result is a lush indigenous aquatic garden cradling a clear, natural pool, the water of which is perfectly clear, soft on the skin and infused with healing energy. No Salt, no chemicals, no sterilization equipment.
"Swimming in natural water is a delight to our senses. Your skin and hair feels soft and your eyes don't sting. It seems as if, every cell in your body is telling you – this is the way swimming should be."

– David Pagan Butler, Organic Pools
Conventional pools use poisons in the form of chemicals, salt (a different form of chlorine), ionizers, oxygen, copper, silver, electrodes (etc.), to kill algae and bacteria. The problem with chemical/sterile pools is that nutrients tend to build up over time, creating perfect conditions for algae and bacteria to bloom. This is why you need to use more and more chemicals in normal pools – because there are more and more nutrients in the system. Natural swimming pools require progressively less care as nutrients are stripped out of the water, leaving nothing behind for algae or bacteria to flourish.