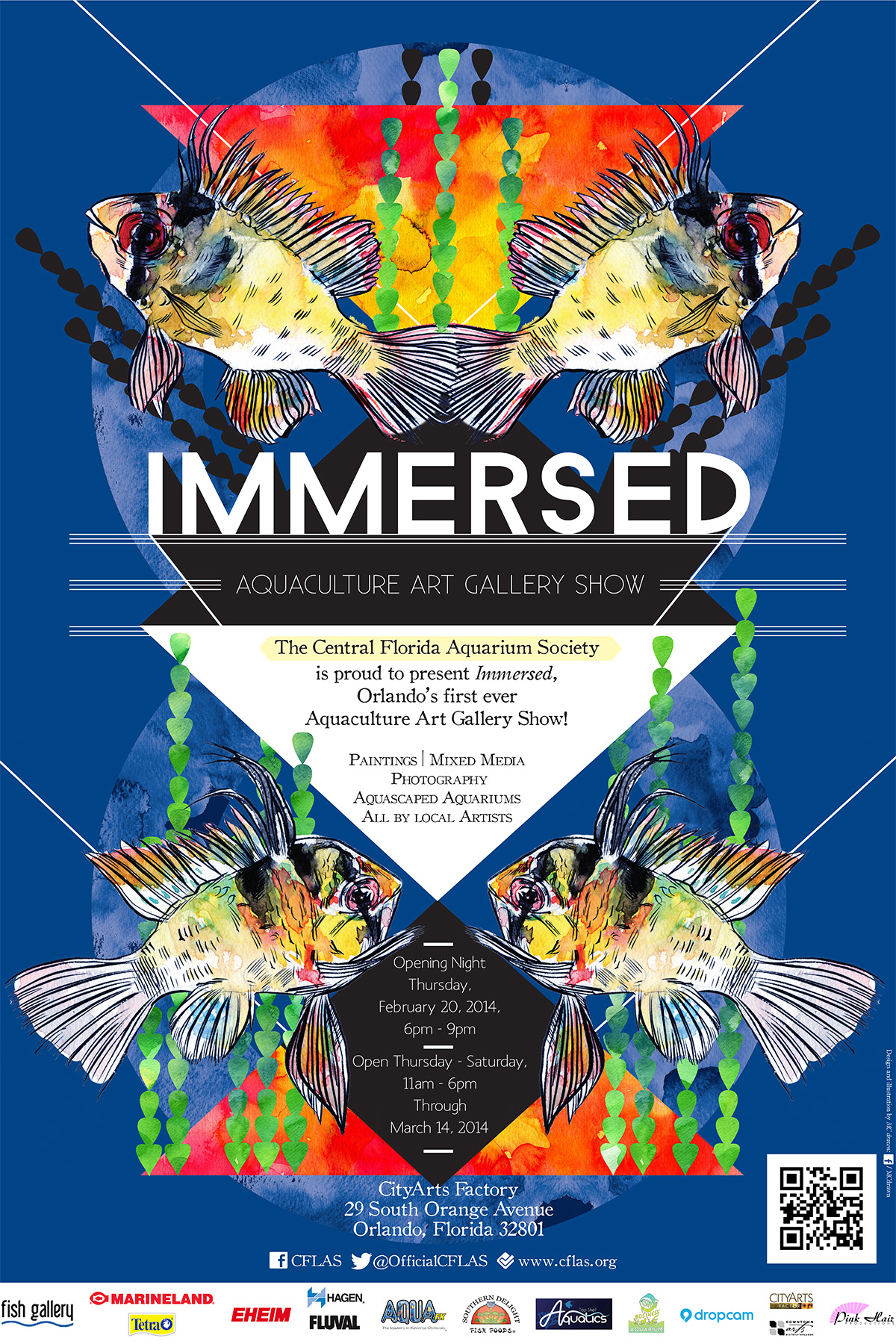 Immersed Aquaculture Art Gallery Exhibit
|
Video | Photos When Opening Night Reception Join Us Thursday, February 20, 2014, 6pm – 9pm at the Cityarts Factory in Beautiful Downtown Orlando As We Celebrate the Opening Of…
When
Opening Night Reception
Join us Thursday, February 20, 2014, 6pm – 9pm at the CityArts Factory in beautiful downtown Orlando as we celebrate the opening of the Immersed exhibit. An assortment of beer and wine will be available at the cash bar. All beverage sales benefit the CityArts Factory and Downtown Arts District of Orlando. Additional details are available here.
Open to the Public
The Immersed exhibit will be open to the public starting Friday, February 21, 2014 – Friday, March 14, 2014, during regular gallery hours (Tuesday – Saturday, 11am – 6pm).
Closing Party
Join us Friday, March 14, 2014, 6pm – 9pm as we celebrate Orlando's first aquaculture art gallery exhibit! Opening night was so epic, and the entire event a success, that we wanted to share one more special night with our fans by throwing a closing party! There will be a cash bar. Prizes will be raffled off at 8:30pm, so get your tickets early! Raffle tickets may be purchased individually for $1, or 15 for $10, cash only. We have also added a Facebook event.
Aquatic Terrarium Class
The Central Florida Aquarium Society has partnered with Fancy Tails Fish Farm to bring you an exciting, fun, hands-on instructional class on how to create an aquatic terrarium like the ones in our exhibit!
Immersed Silent Auction
Our partners and sponsors, including Fish Gallery, Marineland, Tetra, Eheim, Hagen, and Fluval, have teamed up to provide us with a really great 110 gallon aquarium setup for silent auction, complete with fish (South American Cichlids), a $3,500 value!
Immersed Online Giveaway
To celebrate the success of Immersed, we have decided to run a giveaway! Prizes include an AquaFX RO/DI Barracuda ($200 value), a Tetra Whisper AP300 Air Pump ($110 value), and Southern Delight Fish Foods sent us their entire product line to distribute! The winners will be drawn and announced Wednesday, March 12, 2014.
Parking and Admission
Parking: The Plaza Parking Garage, $4 when validated at the front desk of the CityArts Factory.
Admission: Suggested $5 to the CityArts Factory / Downtown Arts District of Orlando.
Where
CityArts Factory
29 South Orange Avenue
Orlando, FL 32801
(407) 648-7060
Listen to a podcast produced by Reef Threads about the Immersed exhibit.
The Who's Who
Featured local artists include Jeanette Schuerr, well known for her murals on the side of the ACE Rubber Stamp & Sign Company and Orlando International Airport, Zach Ransom, best known for his underwater photography of sharks and sea life. Zach, currently working with SeaWorld Orlando, has a long history with Living Color Aquariums, aka The Fish Tank Kings TV series. Christina Duncan of Fancy Tail Fish Farm has submitted 11 beautifully aquascaped self-sustaining ecosystems, some standing over 3′ tall, complete with freshwater fish, shrimp, and frogs!
Local aquatic shops have entered artistic aquarium displays, including Top Shelf Aquatics of Winter Park, Florida, and Fishy Business Aquarium of Longwood, Florida. Also showcasing their talents in this event, Texas-based aquarium designer, Fish Gallery. Local event coordinator Denna Beena of Pink Hair Productions is producing the Immersed exhibit, and curating the art, while CFLAS curates the aquaculture entries.
Fish Gallery, national brands Marineland, Tetra, Eheim, Hagen, Fluval, local water filtration company, Aqua Engineering & Equipment (AquaFX) of Winter Park, Florida, and Southern Delight Fish Foods of Sarasota, Florida, have generously supplied CFLAS with promotional items, including a complete 110 gallon aquarium (which would look great in any home or office), an AquaFX Reverse Osmosis water system, and full-size containers of organic, FDA-approved, locally-made fish foods! Bids will be accepted via Twitter (@OfficialCFLAS), our Facebook page (www.facebook.com/CFLAS), or our Auction thread on our website (www.cflas.org/auction).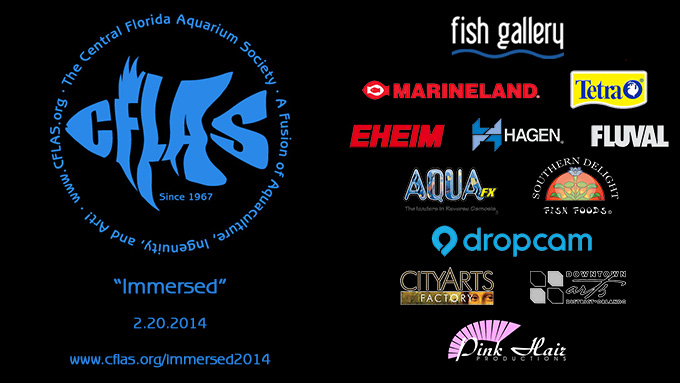 Live Video Feed
CFLAS has set up a live video feed, generously provided by Dropcam, so that those who are unable to make it to the exhibit, are still able to look around.
Attendence
Update – February 25, 2014: Our opening night reception attendance far exceeded our expectations, coming in somewhere between an estimated 1,000 – 1,200 people! This is reportedly the 2nd largest turnout at the CityArts Factory, next to the "Dia de los Muertos & Monster Factory" show, also co-produced by Denna Beena of Pink Hair Productions. Many thanks to everyone involved! We are blessed to have such a wonderful, growing community and support here in Orlando! Thank you to our sponsors both local and national for your support, we put on one epic show. Looking forward to a repeat next year! Here is a 1-hour time-lapse video captured by our Dropcam:
Inaugural Event Promotional Material
Call to Artist: www.facebook.com/events/429728970462577
Call to Aquascaper: www.facebook.com/events/186808034860501
July 7, 2013: Public "Save the Date" Announcement: www.facebook.com/cflas/posts/62621314072443
July 7, 2013: "Save the Date" Poster: www.cflas.org/media/cflas-immersed-announcement-poster.jpg