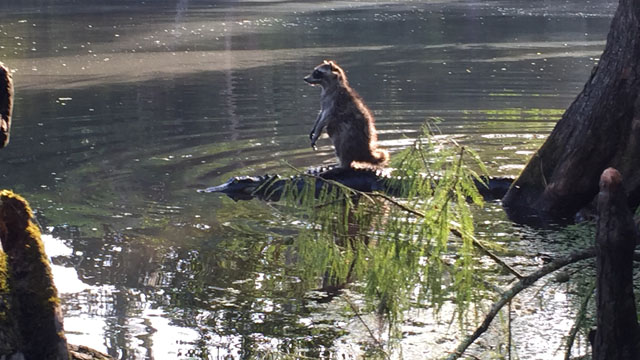 Florida Man Photographs Raccoon Riding Alligator
|
A Raccoon Sitting Atop an Alligator; Definitely the Photo of a Lifetime
A Palatka, Florida resident captured a unique photo over the weekend – a raccoon sitting atop an alligator.
Richard Jones told WFTV that he and his family were walking along the Oaklawaha River in the Ocala National Forest when they spotted a raccoon along the waters edge, adjacent to an alligator.
Jones' son pushed through some palm fronds to get a better shot, inadvertently startling the reccoon, which stumbled toward the water and hopped on top of a nearby alligator.
"I snapped a lucky picture right when the gator slipped into the water and before the raccoon jumped off and scurried away. Without the context, you'd think the raccoon was hitching a ride across the river. Pretty amazing. Definitely the photo of a lifetime."
– Richard Jones via e-mail