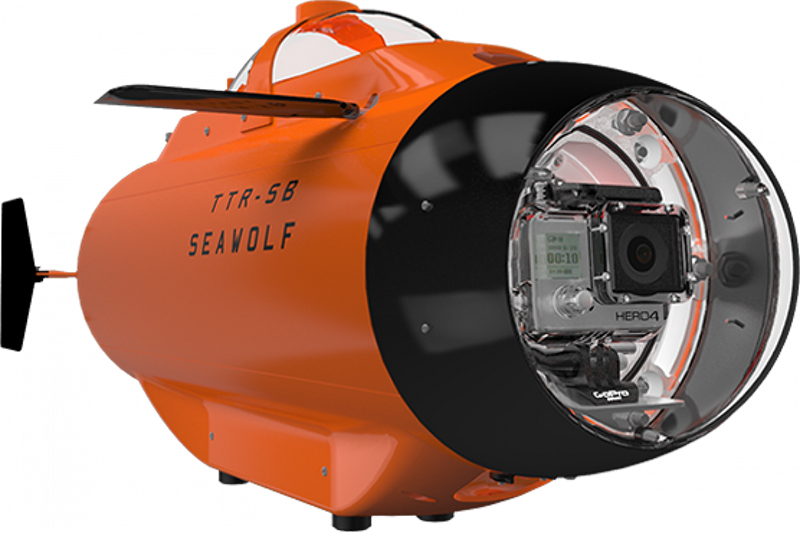 Seawolf Submarine Camera Drone Takes You To New Depths
|
Live Vicariously Through the Eyes of a Fish with This Gopro Camera Sub
Recently, we've spotlighted a couple of feature-rich aerial camera drones – the Lily and HEXO+. We were teased with the idea that we could have a completely waterproof auto-tracking quad-copter, or a hex-copter geared towards professional film-making on a budget. It was at that moment that we realized it was only a matter of time before a submersible drone would be introduced to the market.
Meet Seawolf, the brainchild of TTRobotix, that will take your GoPro camera to new depths. The two-foot long camera submarine, unveiled at CES 2015, will be able to dive to nearly 30 feet for upwards of 50 minutes, with a top speed of 2 mph.
Seawolf comes in three versions; (1) a 2.4GHz wireless version that interfaces with your mobile device, (2) a 5.8GHz version that includes a Bascom D4 controller with 8″ screen, and a wired version that includes 90 feet of lead and a controller with an 8″ backlit screen. The wireless versions include a small WiFi boat that floats on the water's surface and is tethered to Seawolf with a 30 foot lead, while the non-wireless version simply includes a 90-foot tether to the remote control.
The GoPro sub will be available in August for around $1,000; camera not included.