Remembering One of Orlando's Most Iconic Aquatic Murals
|
For Decades, Drivers Headed East-bound on Colonial Drive Would Pass by the Ace Rubber Stamp Company at Mills Avenue, Getting a Glimpse at the Beauty That Was Jeanette Schuerr's Amazing…
For decades, drivers headed east-bound on Colonial Drive would pass by the Ace Rubber Stamp Company at Mills Avenue, getting a glimpse at the beauty that was Jeanette Schuerr's amazing work. Her canvas, the side of a building stretching 80 feet wide and 25 feet high. As the employees would exit the side door for a break, they ended up looking like fish bait to the 9 foot long Nassau grouper.
This undersea mural was one of her early works in Orlando which took her 6 weeks to complete. Working alone, Schuerr used special billboard oils, designed to hold up to the extreme Florida sun.  This mural is widely known and serves as a landmark in the area…or used to anyhow.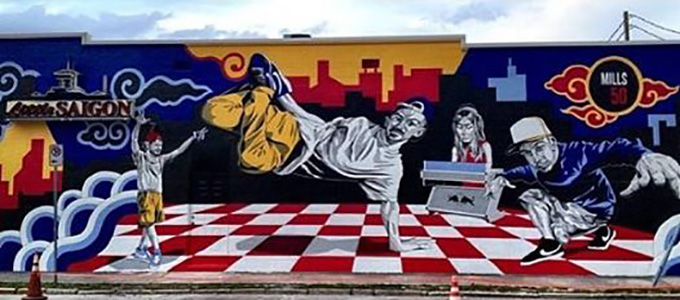 Local Vietnamese restaurant, Little Saigon, formerly located in the adjacent suite, has since taken over the suite of the Ace Rubber Stamp Company, and the iconic wall along with it. Schuerr's mural has since been covered up and replaced by the urban artwork of local artist, Andrew Spear, who brought in Red Bull to sponsor the new mural as part of the Mills 50 street art project.

We are absolutely flabbergasted as to why the decision to do away with Schuerr's mural was made, especially considering the owner of Little Saigon, Mai Huynh, is the wife of Vin Huynh, owner of Ocean Blue Aquarium in Winter Park. Schuerr told us during our Immersed aquaculture art gallery exhibit, that she had recently refreshed the mural after decades of exposure to the sun's harsh UV rays.
You can still catch Schuerr's work in several other locations around Orlando, including Disney's Animal Kingdom Lodge and the Orlando International Airport.