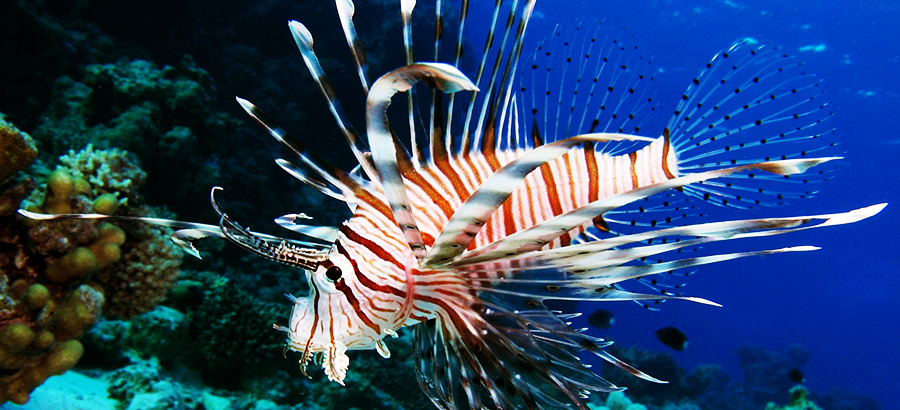 Florida Lionfish Ban Takes Effect August 1, 2014
|
State Wildlife Regulators Today Banned the Import of Live Lionfish and Enacted Several Other Countermeasures to Help Combat the Fierce Fish's Invasion of Florida Waters. Lionfish, Native to Pacific And…
State wildlife regulators today banned the import of live Lionfish and enacted several other countermeasures to help combat the fierce fish's invasion of Florida waters.
Lionfish, native to Pacific and Indian Oceans, have been on a destructive path for decades. The popular, prickly and venomous aquarium fish first got loose into the Atlantic Ocean in the mid-1980s, and more of them may have been released during Hurricane Andrew in 1992. Now, the fish spans waters from the Caribbean to Rhode Island.
They devour important native sport and commercial fish. Nobody knows for sure when Lionfish came roaring into the Indian River Lagoon, but in 2010, two Florida Tech students spotted several inside Sebastian Inlet. Since then, the fish has been found inside Port Canaveral. They've also been seen in the lagoon proper around seawalls, pilings and worst of all — mangroves, a key nursery for prized grouper, snapper and other commercially significant species. Hundreds have been found far inland inside Jupiter Inlet.
Today, the Florida Fish and Wildlife Conservation Commission, at their regular meeting in Fort Myers, approved changes that take effect August 1, 2014 and include:
Prohibiting the importation of live Lionfish.
Allowing the harvest of Lionfish when diving with a rebreather, a device that recycles air and allows divers to remain in the water for longer.
Allowing participants in approved tournaments and other organized events to spear Lionfish or other invasive species in areas where spearfishing is not allowed. This will be done through a permitting system.
"Changes like these will make it easier for divers to remove Lionfish from Florida waters and will help prevent additional introductions of Lionfish into marine habitats," State Rep. Holly Raschein, said in a press release.
In 2013, FWC hosted the first ever Lionfish Summit, in Cocoa Beach, Florida, which brought together the public, researchers and resource managers to brainstorm solutions. Today's changes were inspired in part by that summit.
Anglers can report Lionfish sightings by downloading the new Report Florida Lionfish app on a smart device or by visiting MyFWC.com/Fishing and clicking on "Recreational Regulations" (under "Saltwater") and then "Lionfish."
Source: Florida Today