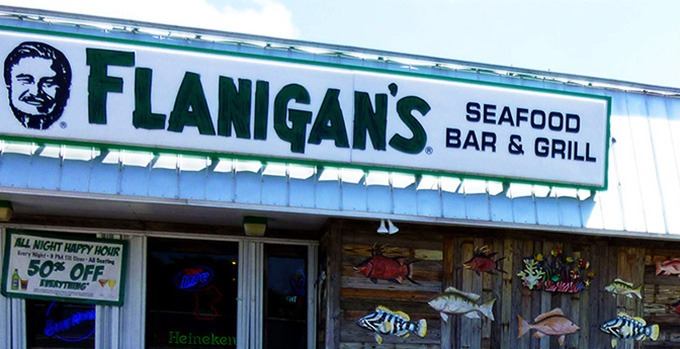 It's Lights, Camera, Action as ATM Films in South Florida
|
The Brother-in-law Duo, Wayde King and Brett Raymer of Acrylic Tank Manufacturing (atm), Are at It Again, Filming for Animal Planet's Tanked, Only This Time, in South Florida. Camera's Are…
The brother-in-law duo, Wayde King and Brett Raymer of Acrylic Tank Manufacturing (ATM), are at it again, filming for Animal Planet's Tanked, only this time, in South Florida.
Camera's are rolling at locally owned and operated chain, Flanigan's Seafood Bar and Grill, famous for their homemade menu items, legendary Baby Back Ribs, fresh catch selections, and unique preparation options which include Dolphin Francaise and Blackened Tuna.
In 1959, restaurateur Joeseph Flanigan, got his start by opening a chain of small cocktail lounges and package liquor stores throughout South Florida called Big Daddy's Liquors. In 1985, Mr. Flanigan, and his son, James, opened the first Flanigan's Seafood Bar and Grill at 2500 E. Atlantic Blvd. in Pompano Beach.
Although Joseph "Big Daddy" Flanigan passed away January 28, 2005 in his Sea Ranch Lakes home at the age of 75 following a two-year bout with cancer, his memory lives on in the growing company that is Flanigan's Enterprises, Inc. (NYSE: BDL), which generates roughly $100M annually.
According to his son Paul, Mr. Flanigan earned the name "Big Daddy" from his two daughters, when he would ask them, "Who's the best daddy?" to which they'd reply "Big Daddy".
When you think of South Florida, not to mention Flanigan's Seafood Bar and Grill, it's hard not to think of aquariums filled with tropical marine fish. We look forward to seeing what the ATM team comes up with next!