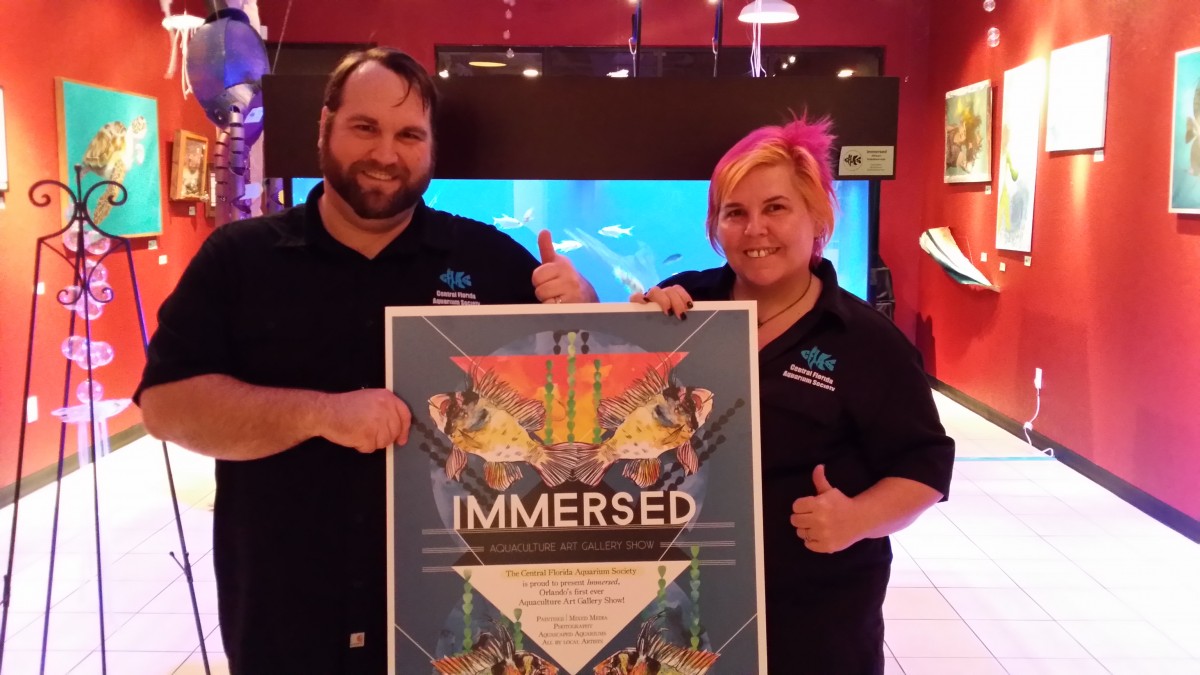 Immersed 2014 Closing Party
|
Immersed Has Come and Gone for 2014. This Premier Event Was a Huge Success, Thanks to Our Awesome Community, Partners, and Sponsors Like Fish Gallery, Marineland, Tetra, Eheim, Hagen, Fluval,…
Immersed has come and gone for 2014. This premier event was a huge success, thanks to our awesome community, partners, and sponsors like Fish Gallery, Marineland, Tetra, Eheim, Hagen, Fluval, AquaFX, Southern Delight Fish Foods, Top Shelf Aquatics, Fishy Business Aquarium, Fancy Tails Fish Farm, Dropcam, CityArts Factory, Downtown Arts District of Orlando, and Pink Hair Productions. Not only did Immersed have the second-largest turnout in the history of CityArts' Third-Thursday gallery openings (next to the Gold Brick award-winning Dia de los Muertos & Monster Factory event, also co-produced by our very own board member and event coordinator, Denna of Pink Hair Productions), we also had the most art sales for the month out of all galleries! Thank you for your incredible support Orlando!  A huge thanks to SoundWave Riders, who produced our promo video based on footage shot opening night, Dropcam for providing us with their Pro-series cameras for live streaming which enabled us to broadcast our exhibit live to our friends and followers around the world, and create a 1-hour time lapse video, and to Mike Gavin, the Paranormal Paparazzi for nearly 200 gorgeous photos from opening night. Special thanks to Alpha Press for printing and Constant Rock Art for our awesome CFLAS logo-etched centerpiece rock on display in the 150 gallon aquarium seen when you first enter the gallery.
We would like to thank our artists that really made this event spectacular! Special thanks to Jeanette Schuerr, Zach Ransom, Eloise Major, Rossy Guzman, Suzy McNorton, Christina Duncan, and Ethan Albright.
We gave away over $4,500 in merchandise during Immersed! We began a silent auction for a complete 110 gallon Marineland aquarium with stand and canopy, Tetra Whisper air pump, Eheim canister filter, Hagen/Fluval dual T5HO lighting, and aquascaping by Fish Gallery, valued at $3,500. During our closing party, held the evening of Friday, March 14, 2014, we raffled off over $600 in great prizes from Marineland, Eheim, and Southern Delight Fish Foods. We also held an online giveaway for those who were unable to make it, giving away over $400 in prizes. Congratulations to all of our winners, Jopher Bernal, Tammy Carlton, Brian Franklin, Michael Guy, Rossy Guzman, Brandy Hamaker, Wes Hodge, Vanessa Leavitt, Robert Lohr, Eloise Major, Suzy McNorton, Shae Merritt, Megan Steward.
We had so much fun bringing Immersed to life, that we decided to do it again next year! Mark your calendars for opening night, Thursday, February 19, 2015, 6pm – 9pm, as Immersed returns to the CityArts Factory in beautiful downtown Orlando!
We look forward to improving on this years' show, and already have several new surprises already lined up!  With your support, the Immersed exhibit generated about $1,000 in revenue that went directly to the CityArts Factory and Downtown Arts District of Orlando.
Again, thank you from the CFLAS team!