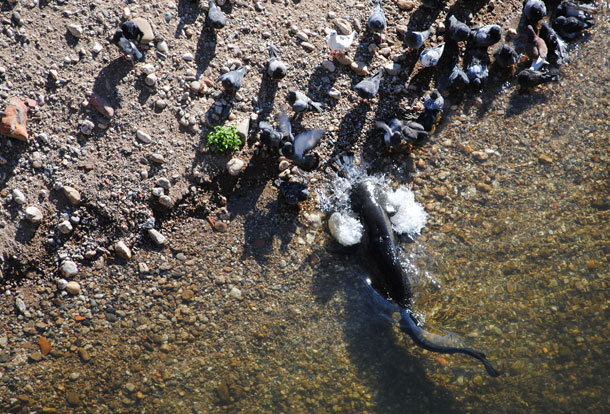 Freshwater Killer Catfish Beach Themselves for a Meal
|
Like Something Right out of a Horror Movie, massive Freshwater European Catfish (silurus Glanis) Are Beaching Themselves in Order to Attack the Unsuspecting Pigeons (columbia Livia) That Congregate on Several Islands…
Like something right out of a horror movie, massive freshwater European catfish (Silurus glanis) are beaching themselves in order to attack the unsuspecting pigeons (Columbia livia) that congregate on several islands in the Tarn River, France. The beaching behavior is quick, lasting from less than one second to no more than 4 seconds, and the attacks were systematically triggered by active pigeons.
Introduced to Tarn in 1983, these non-native species range 3-5 feet in length. In other regions, these giant catfish have grown to over 9 feet long, weighing in at over 300 lbs!
The behavioral strategies developed by predators to capture and kill their prey are fascinating, notably for predators that forage for prey at, or beyond, the boundaries of their ecosystem. Among a total beaching behaviors observed and filmed, 28% were successful in bird capture.