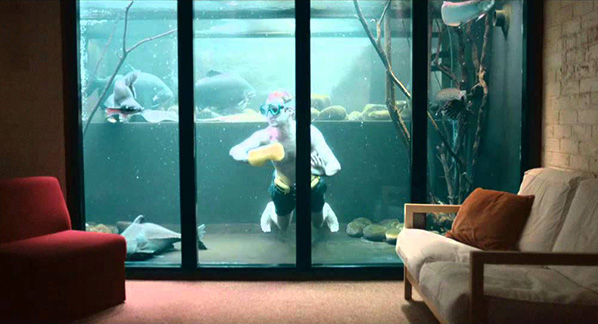 Largest Privately-Owned Tropical Freshwater Aquarium in UK
|
Jack Heathcote Dives Into Nearly 4,000 Gallons Weekly at Home
This South American monster tank holding nearly 4,000 gallons of water was considered to be the UK's largest, privately-owned tropical freshwater aquarium. We use the term 'was' as – according to Practical Fishkeeping – it was decommissioned as a result of absurdly high utility bills which averaged roughly £6,000 ($9,000 USD) annually.
Once located in the basement of Jack Heathcote's Nottingham residence, and home to pacu, arowana, redtail catfish, stingrays, gar, turtles, and more, it's hard to imagine that he gave up these wonderful creatures after constructing this remarkable aquarium, measuring 12'6″L x 12'8″W x 7'H.
Home aquarists and hobbyists come up with some really great ideas and designs. You never know when your home-brew DIY project might evolve into something much larger, like the ZooKeeper Lionfish Containment Unit, self-tracking drone that can be used to document conservation and rescue efforts of aquatic life, and custom lighting system utilizing Raspberry Pi. Keep pursuing your dreams – you never know where they might lead you.