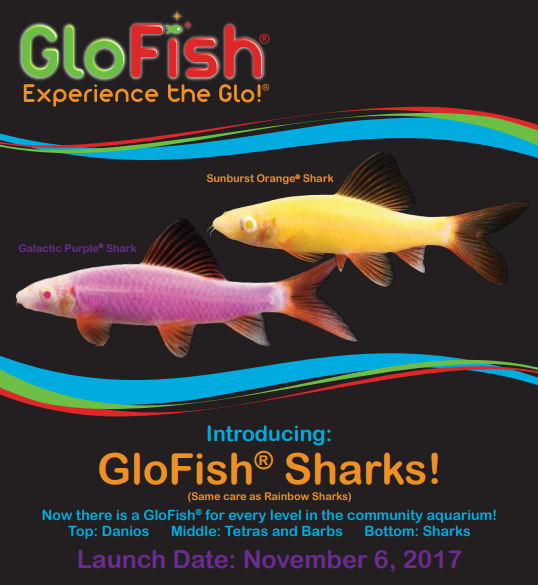 GloFish® Rainbow Sharks – Born Brilliant
|
New Rainbow Shark Glofish® Make Their Debut Next Month!
We are extremely excited to announce the first new species in the GloFish® line since Tiger Barbs!
Rainbow Sharks are a welcome addition to the line, being a significantly larger (max size roughly 4 inches) fish as well as one that tends to stay near the bottom of the tank. Now with Danios, Tetras, and Sharks, your customers can have GloFish® at every activity level in the tank, top, mid, and bottom.
Care is exactly the same as a normal Rainbow Shark, but with the famous GloFish® color!
The initial offering includes the Sunburst Orange® Shark and Galactic Purple® Shark.
With a launch date of November 6, 2017, you can expect to see these colorful fish making their appearance at your local fish store.
Retailers, place your pre-orders with Nautilus Tropical Fish Wholesale.
GloFish® fluorescent fish are born brilliant! They are not injected or dyed. They inherit their harmless, lifelong color from their parents, and require the same care as any other community fish. GloFish are great for any home, office, or classroom and perfect for hobbyists and beginners alike.