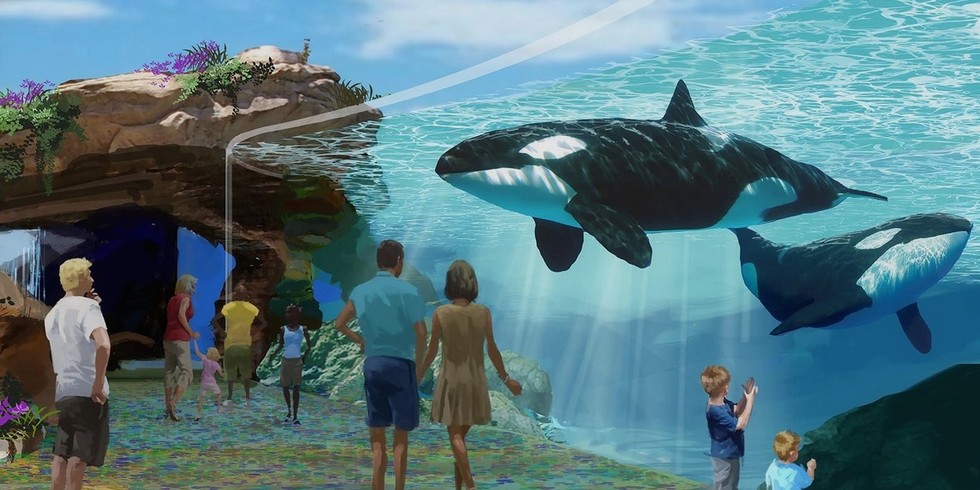 HSUS Praises SeaWorld for Ending Orca Breeding Program, Forms Partnership
|
Ground-breaking Animal Welfare and Conservation Reforms a Start for Partnership Between Seaworld and Hsus
In a dramatic shift that signals an eventual end to the practice of keeping captive orcas for public exhibition, SeaWorld announced it would cease all of its orca breeding programs for the company's nearly 30 whales. This action will make the current group the last generation of SeaWorld's orcas. The Humane Society of the United States, which worked with SeaWorld on these new policies, praised its reforms as a major step forward toward a humane economy in which corporations respond and adapt to public concerns over animal welfare.
"These two organizations have been long-time adversaries, but we're excited now to see the company transforming its operations for the better on animal welfare," said Wayne Pacelle, president and CEO of The HSUS. "Today's announcement signals that the era of captive display of orcas will end and that SeaWorld will redouble its work around rescue and rehabilitation of marine mammals in crisis and partner with us to tackle global threats to marine creatures."
The HSUS has long been critical of keeping orcas and dolphins in captivity, and has clashed with SeaWorld for more than two decades. Of SeaWorld's orcas, 23 were born in captivity. SeaWorld ended live capture of orcas and other marine mammals from the wild years ago, and reaffirmed that commitment today.
"SeaWorld takes seriously its responsibility to preserve marine wildlife. As one of the largest rescue organizations in the world, we will increase our focus on rescue operations — so that the thousands of stranded marine mammals like dolphins and sea lions that cannot be released back to the wild will have a place to go," said Joel Manby, president and CEO of SeaWorld.
"Together with HSUS, and with our 20 million guests and 20,000 employees we can build an army of advocates to protect animals and wild places."
SeaWorld has weathered strong currents of public criticism since the release of the 2013 documentary "Blackfish," and today's announcement comes in the wake of increasing pressure and calls on the company to end captive orca performance at its parks.
"This is a first, massive step forward toward a more humane future for SeaWorld," said Dr. Naomi Rose, marine mammal scientist at the Animal Welfare Institute and formerly with The HSUS. "I welcome these commitments from Joel Manby. He has given SeaWorld a new lease on life."
"This is a defining moment. The fact that SeaWorld is doing away with orca breeding marks truly meaningful change," said Gabriela Cowperthwaite, director of "Blackfish."
The announcement with SeaWorld exemplifies The HSUS's approach to act as a catalyst and contributor to the adoption of more humane practices by the corporate sector.
Through collaboration or confrontation, or sometimes a combination of the two, The HSUS has worked in recent years to secure substantial animal welfare commitments from companies working within food and agriculture, cosmetics and chemical manufacturing, fashion, the pet industry, animals in entertainment, and other sectors. In addition to its new policies for orcas, SeaWorld has committed to:
Maximizing its focus on rescue and rehabilitation of marine animals in distress and highlighting the plight of unreleasable animals to foster a stronger bond between humans and animals and to educate people about ongoing threats to them.
Participating in advocacy campaigns to end the commercial slaughter of marine mammals. Specifically, SeaWorld plans to advocate for an end to commercial whaling and sealing and to fight shark finning throughout the world. We expect the company will weigh in on a range of other issues that adversely affect the lives of marine creatures.
Revamping its food policies by changing its procurement practices to source only sustainably raised seafood, crate-free pork and cage-free eggs, and to offer more vegan and vegetarian options at all of its restaurants and other food service operations, which serve more than 20 million people annually.
Protecting coral reefs and reducing the commercial collection of wild-caught ornamental fish.
It was almost exactly a year ago that Ringling Bros. pledged it would phase out its use of elephants in traveling acts – a game-changing announcement for the use of wild animals in circuses. Today's announcement by SeaWorld is also tremendously significant and marks a turning point in the movement to phase out the use of orca for captive display.
Read more about the partnership between SeaWorld and the HSUS here.