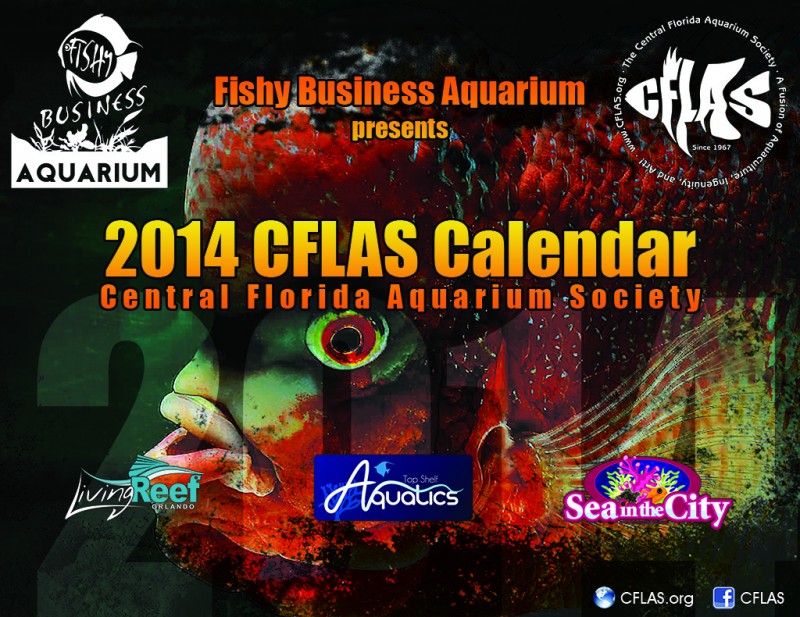 2014 Community Calendar
|
We Would Like to Thank Our Presenting Sponsor fishy Business Aquarium, and Our Supporting Sponsors Living Reef Orlando, top Shelf Aquatics, And sea in the City. with Your Help, We Created Something Amazing! This…
We would like to thank our presenting sponsor Fishy Business Aquarium, and our supporting sponsors Living Reef Orlando, Top Shelf Aquatics, and Sea in the City. With your help, we created something amazing! This is the start of our annual community calendar project. We had a successful pre-order sale, and a fun calendar release party hosted by The Food Truck Bazaar with nearly 2,000 in attendance!
A big thanks goes out to all artists for sharing your artwork with the Central Florida Aquarium Society and community: Michael Gavin, The Paranormal Paparazzi, Mark Taylor, Warren Photographic Ltd, Mike Bainter, FishTail Artwork Gallery, Steph Sweet, Myrcury's Toybox, Rod Leisure, Rodman's Visuals, Miranda Costa, MC drawn, Marcus Schnell, West Coast Cichlids, Peter Westermann, Brian Scott Hampton, Neil Myles, Alan Yan, Jessica Wright, and Josue Matias.
A special thanks to our family and friends for your support: Mark Baratelli, Leena Buchy, Central Florida Cichlids, Dale Eramo, Ann Fillmen, Matt Gervia, Guy Harvey, Julie Liss, Gina Mongelli, Petey Mongelli, Elaine Pechacek, Peter Pechacek, Jessica Shirvan, and Christopher Walken.
A very special thank you to our sponsors and partners: Fishy Business Aquarium, Living Reef Orlando, Top Shelf Aquatics, Sea in the City, The Daily City, Neptune's Neighborhood, CityArts Factory, Downtown Arts District of Orlando, Under the Sea Radio Show, Majestic Aquariums TV & Majestic Aquarium Hour Radio Program, The Food Truck Bazaar, LunarSky Productions, and Pink Hair Productions.