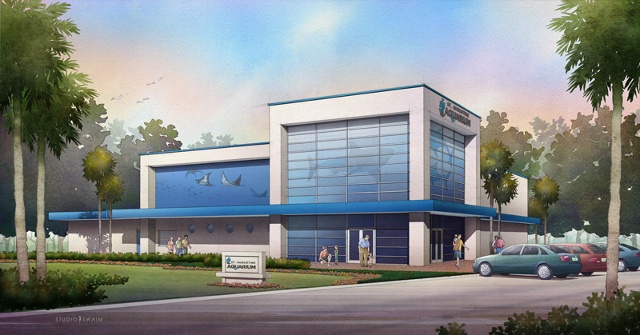 St. Augustine Aquarium, Snorkel Adventure, and Zip Line Project Announced
|
The St. Augustine Aquarium Has a New Home at 2045 State Road 16 in St. Augustine, Florida, Less Than a Mile East of Interstate 95. In Today's Announcement, Owners Shawn…
The St. Augustine Aquarium has a new home at 2045 State Road 16 in St. Augustine, Florida, less than a mile east of Interstate 95.
In today's announcement, owners Shawn and Kathy Hiester said they purchased a 5-acre site for the privately-funded aquarium which includes a snorkel adventure and zip line project.
We had the opportunity to speak with Mat Roy, one of the board members in charge of development, who outlined the plans which would include an 80,000 gallon outdoor aquarium and snorkel adventure, coupled with a zip line adventure course. We later learned that phase II will add an additional 180,000 gallons of water, and 40,000 square feet of indoor/outdoor exhibit space which will house a myriad of Florida marine species.
If Mat Roy's name sounds familiar, you may recall a few months ago when he announced his departure from Living Color Aquariums, home of the reality TV show Nat Geo Wild's "Fish Tank Kings", to head up the St. Augustine Aquarium project. Our REEF Project team had the opportunity to tour their facilities earlier this year.
"We love the location because it is close to I-95 and the busy St. Augustine Outlet Center yet retains its natural feel with lots of beautiful trees," Kathy Hiester said in a release.
To highlight St. Augustine's maritime heritage, the design team will be installing a recreated 17th-century shipwreck as part of the main exhibit, surrounded by a wide array of sharks, rays, eels, spanning 70 different species, and over 1,000 fish.
The zip line course will include an assortment of aerial elements with multiple courses suited for all levels. The tree canopy will be home to most of these elements, and includes a long zip line over the proposed lagoon housing several species of sharks. If you would like to get closer to them, there are plans to provide guests with the opportunity to dive with the sharks in the main aquarium inside a shark cage.
A themed family-style restaurant will join the aquarium onsite, providing lunch, dinner, and catering for special events onsite.