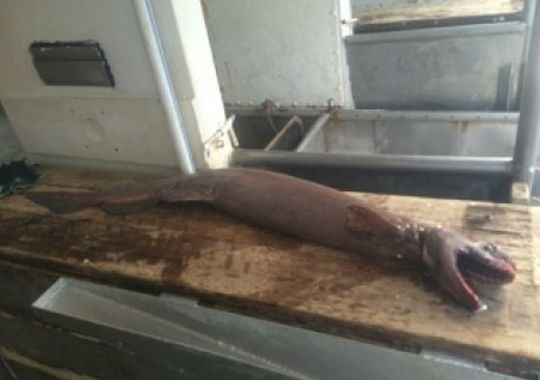 Rare Frilled Shark Caught in Australian Waters
|
Measuring in at Nearly 6-feet in Length, with a Body That Resembles a Serpent-like Seamonster, with the Tail of a Shark, This 300-toothed Frilled Shark Was Caught off the Coast…
Measuring in at nearly 6-feet in length, with a body that resembles a serpent-like seamonster, with the tail of a shark, this 300-toothed Frilled Shark was caught off the coast of Victoria, Australia last month.
Having rarely been seen in the wild, this shark has ancestors dating back over 80 million years and according to the South East Trawl Fishing Industry Association, is considered a "living fossil".
Skipper, David Guillot, found the shark while fishing for sea perch, and that he had never seen anything like the shark in his 30 years at sea, The Sydney Morning Herald reports.
The head on it was like something out of a horror movie. It was quite horrific looking… It was quite scary actually!

– David Guillot
Simon Boag, from the South East Trawl Fishing Association, told ABC that it was the first time in living memory that a frilled shark had been sighted.
The shark was offered to the Commonwealth Scientific and Industrial Research Organisation in Australia as a specimen, but the organization declined to accept it, as they already had one, according to SETFIA's website. It is believed that the Frilled Shark has been sold.
National Geographic has a great article on a Frilled Shark that was photographed alive in 2007.