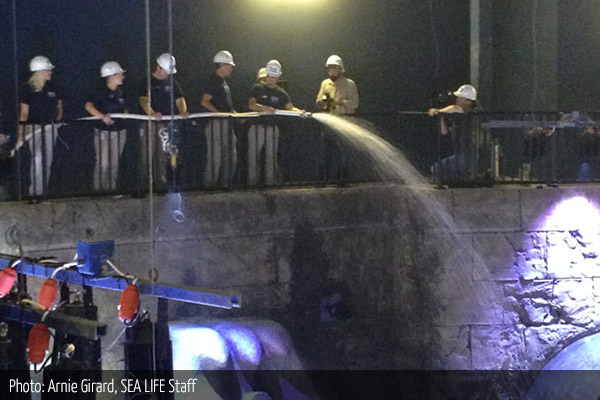 SEA LIFE Orlando Aquarium is Making Waves
|
Sea Life Orlando Aquarium is Making Waves at Its I-drive Location As It Began Filling the Atlantic Ocean Habitat with 192,000 Gallons of Water on Tuesday – a Process That Will…
SEA LIFE Orlando Aquarium is making waves at its I-Drive location as it began filling the Atlantic Ocean habitat with 192,000 gallons of water on Tuesday – a process that will take nearly two days to complete.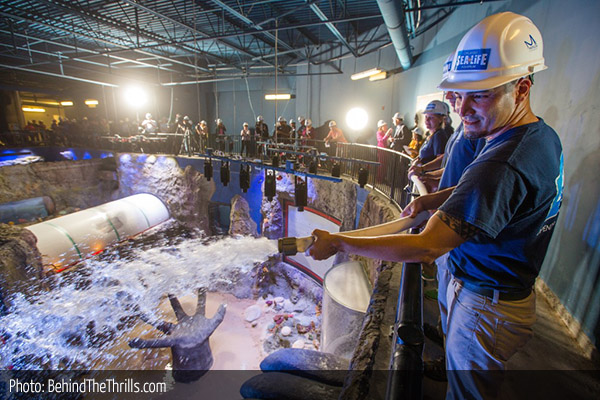 Once filled, more than 90,000 pounds of salt will be added to create the ideal marine environment for its the inhabitants. Marine animals will begin to arrive in the coming months.
The underwater attraction is expected to open May 4, 2015.
SEA LIFE Orlando Aquarium shared these fun facts:
45,000 pounds of sand have been placed inside the aquariums
More than 90,000 pounds of salt will be used to create the saltwater
SEA LIFE Orlando will have temperate habitats which will help create a more diverse ecosystem to house colorful and vibrant animals
The 360-degree tunnel, weighs eight tons and has a buoyancy of 60,000 pounds lifting it like a bubble
The animals that will call SEA LIFE Orlando home include: Sand Bar sharks, Pacific Black Tip sharks,  Grey Reef sharks and Bowmouth Guitarfish sharks
The aquarium's windows are approximately four inches thick
More than 40,000 gallons of water are held in an underground reservoir beneath the aquarium
Media: Arnie Girard/Staff, Behind The Thrills