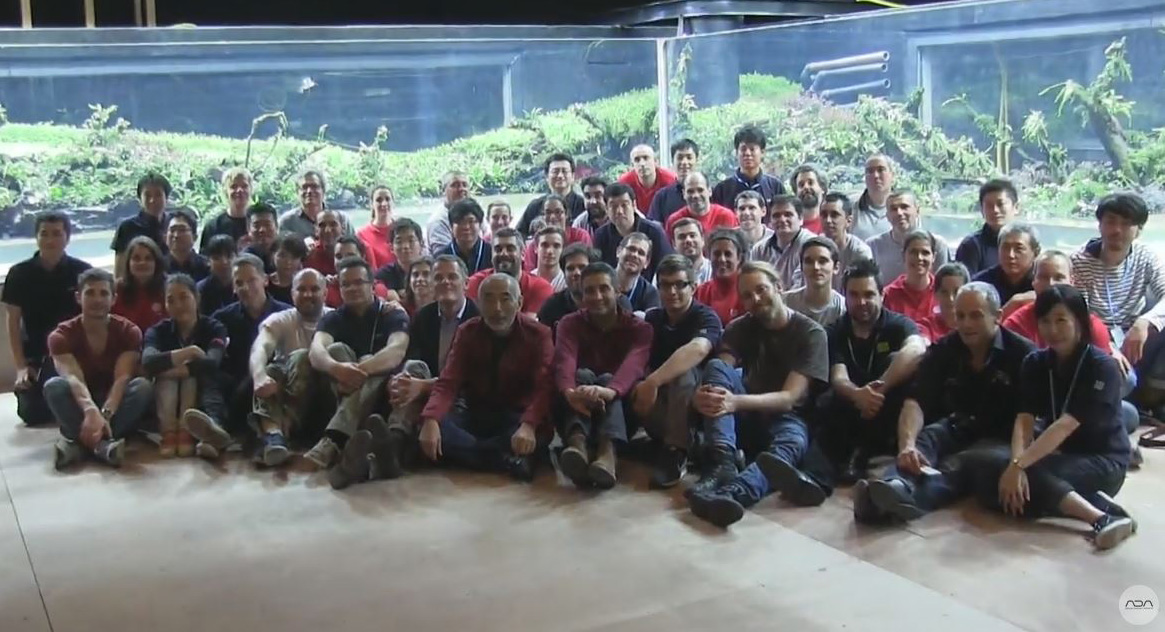 Takashi Amano Creates Worlds Largest Nature Aquarium, "Florestas Submersas"
|
In January 2015 at Oceanário de Lisboa, Portugal, the Worlds Largest Nature Aquarium Titled "florestas Submersas", or "forests Underwater" project Began. This is the World's 40 Meter Tank Full of Freshwater…
In January 2015 at Oceanário de Lisboa, Portugal, the worlds largest Nature Aquarium titled "Florestas Submersas", or "Forests Underwater" project began.
This is the world's 40 meter tank full of freshwater planted aquarium. The aquascaper, Takashi Amano of Aquarium Design Amano, is applying his energy to make it happen.
The staff of Oceanário de Lisboa, and about 40 professionals from across the world, are working together. A frenzied 6-day of layout making begins.
Day 1: Driftwood & Rock [Composition]
Oceanário de Lisboa is Europes biggest marine aquarium. In 2013, an invitation came from one of the world's famous aquariums. They were requesting Takashi Amano to make a special exhibition tank for the new annex, which was due to open in April 2015. That was the beginning of this lifetime nature aquarium project.
Day 2: Substrate [Spreading]
The aim of nature aquarium is to recreate the native environment and is aquascaped by learning from nature. Although the concept of nature aquarium is well-known in Europe, the task of building the 40 meter layout tank that represents full-scale nature remains a challenge.
The principle inspiration for Amano was the beautiful nature in his hometown, which he thoroughly enjoyed as a child. Sadly, those places for little boy Amano disappeared beacuse of human intervention as time progressed. He had a passion for the beautiful nature that had been lost. This is the root of nature aquarium, regardless whether the aquarium is small or large.
Day 3: Willow Moss & Ferns [Attaching]
Mr. João Falcato, the director of the aquarium, is one of those people who is fascinated by such nature aquarium. He had a passion to represent the global natural environment by showing the links between ocean, rivers, and forest. Through collaboration with world-renowned artist, Takashi Amani.
Mr. Falcato gushing devotion and Amano's sense of mission synergized to create the nature aquarium that connects the environment with people.
Day 4 – 6: Aquatic Plants [Planting]
Their mission was to convey the magnificence and meticulousness of nature – the entire balance of the layout adequately demonstrates a world, where not only the fish, but a wide variety of life forms, can survive together. The layout is almost like a grand symphony telling a story – a dream being created by all the people involved in the project, as if they were players in an orchestra.
"I have been building the image of the layout for almost one and a half years since Oceanário de Lisboa told me about this project. Now I am delighted that this turned out 200% better than I had imagined. I would like to thank not only ADA staff, but also the staff from Oceanário de Lisboa and the volunteers. Thank you!"

– Takashi Amano
The world's largest Nature Aquarium, Florestas Submersas at Oceanário de Lisboa, Portugal, opens late April 2015.