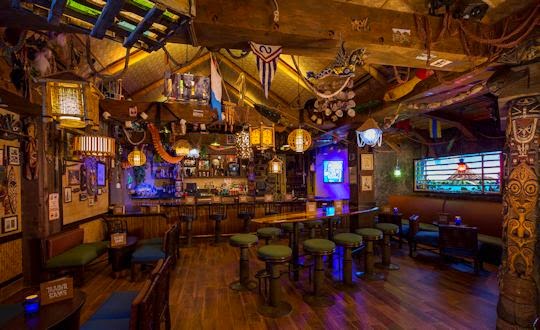 Trader Sam's Grog Grotto: Drinking You 20,000 Leagues Under The Table
|
What Do You Get when You Take a Nautical Themed Pub, Add Mechanical Giant Squid Tentacles, Diving Equipment, Aquatic Accents, Collectible Tiki-style Tumblers Vessels, and of Course Some Magic? Only…
What do you get when you take a nautical themed pub, add mechanical giant squid tentacles, diving equipment, aquatic accents, collectible tiki-style tumblers vessels, and of course some magic? Only the latest "dive bar" in town! Trader Sam's Grog Grotto at Disney World's Polynesian Village opened this weekend to rave reviews. This is certainly a dive bar Jules Verne would be proud of.
Trader Sam's Grog Grotto is located off the main lobby of Disney's Polynesian Village Resort; the adjacent Trader Sam's Tiki Terrace offers views of the marina and Seven Seas Lagoon.
We are pleased to see 20,000 Leagues Under the Sea once again represented at Disney, since the removal of the legacy ride which opened with the park in 1971, and closed in 1994.