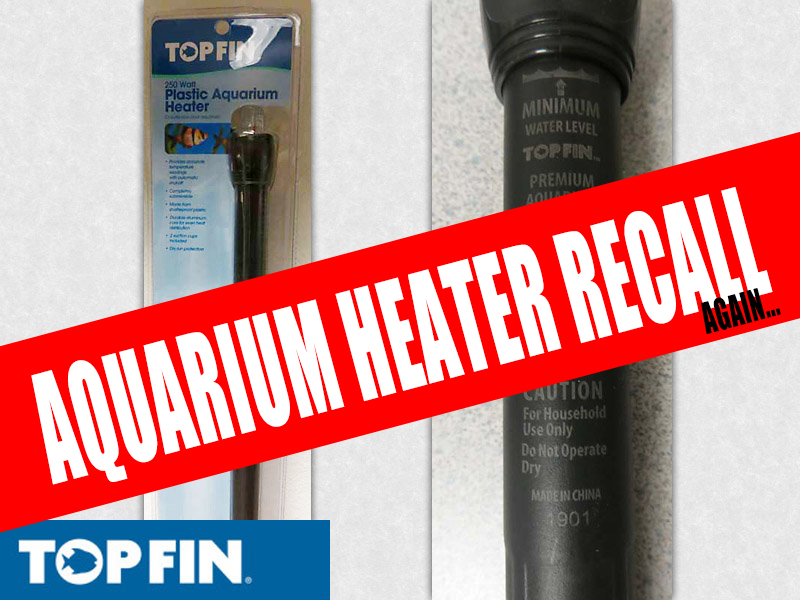 Top Fin Tops Aquarium Heater Recall List For Second Year
|
The Same Aquarium Heater Was Recalled Last Year
Top Fin has issued yet another recall on its entire line of plastic aquarium heaters sold between August 2014 and April 2015. This affects model numbers HT50, HT100, HT150, HT200 and HT250 "Top Fin Premium Aquarium Heater". The model number and heater's wattage is printed on the side of the heater near the top, just above the words "Made in China", with the lot number below the country of origin. All lot numbers are included in this recall, and have been sold at PetSmart.
Just last year, PetSmart recalled nearly 33,000 Top Fin brand aquarium heaters matching this criteria. This year, about 112,200 are being recalled.
The recall is a result of 13 reports of incidents, including four reports of minor shock, seven reports of aquariums overheating, and one report of property damage from an electrical shortage resulting in fire.
When it comes to water and electricity, you simply don't want to fool around. We suggest selecting a quality Eheim aquarium heater.
For additional information, call PetSmart at 888-839-9638 (Monday – Friday, 10am – 7pm Eastern), or visit www.petsmart.com and click on "Product Recalls" listed under "Shop With Us" for additional information.