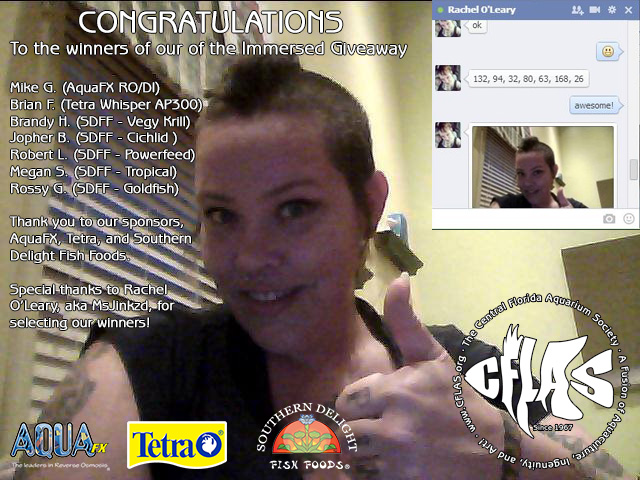 Immersed Giveaway
|
You Helped Make Our Immersed Aquaculture Art Gallery Exhibit a Huge Success, and Supported Us with Your 2,800 Likes on Our Facebook Page! As a Way to Say Thank You, central Florida…
You helped make our Immersed aquaculture art gallery exhibit a huge success, and supported us with your 2,800 likes on our Facebook page! As a way to say thank you, Central Florida Aquarium Society is giving away $400 in prizes, including an AquaFX RO/DI Barracuda water system, a Tetra Whisper AP300 Air Pump for deepwater applications, and several bottles of Southern Delight Fish Foods!
Additional details are available on the entry form.
UPDATE – Wednesday, March 12, 2014: CONGRATULATIONS to the winners of our Immersed Giveaway, sponsored by Aqua FX Reverse Osmosis, Tetra, Southern Delight Fish Foods. Our sponsors are awesome, show them some love by visiting their pages and "Liking" them! We would also like to thank Rachel O'Leary, aka Invertebrates by Msjinkzd, (www.msjinkzd.com) for selecting our seven (7) winners! (If you know some of the winners, please tag them in the photo!)
Mike Guy (AquaFX RO/DI)
Brian Franklin (Tetra Whisper AP300)
Brandy Hamaker (SDFF – Vegy Krill)
Jopher Bernal (SDFF – Cichlid )
Robert Lohr (SDFF – Powerfeed)
Megan Steward (SDFF – Tropical)
Rossy Guzman (SDFF – Goldfish)
We are in the running for the Best of Orlando, presented by Orlando Magazine, for Best Art Gallery, for our Immersed Aquaculture Art Gallery Exhibit! Show us some love by visiting the entry form at http://goo.gl/efmqKT and filling in "CFLAS Immersed", won't you?
This is the last week of the Immersed exhibit, and this Friday, 6pm – 9pm is the closing party! If you've not been to the exhibit, check out the videos and photos at www.cflas.org/immersed2014 and see what you're missing! This is a fun, free event, with a cash bar, and more prizes to be won!
Again, congratulations to all of our winners, and a huge thank you to all of our fans and members.
PS: Winners, you can pick up your prizes at the closing party, coordinate with us to bring your prize to our next event, or schedule a day/time for local pickup. – Please be sure to bring a valid photo ID.